If the name above a board is highlighted in yellow, it is that player's turn. The boards will be shown in the playing order for the current turn, so do not assume your board will be in the same position from one turn to the next.

The board number is shown above and to the right of the board.

If a die has been used it will have a red border, shown around the red 6 in the example. The red 1 has not been used. As players should be able to order for an entire turn, the both dice will usually be shown as used or available.

Unsold goods are shown below the dice. The blue number to the left of a goods type shows how many of these you have to sell. The six goods types are shown using these images:






When goods have been sold, the board will show the total number of goods sold followed by the type. In the example, 3 goods of 2 types have been sold. The small dice below this show which types have been sold. White dice are for good types that have not been sold. Here,dice 3 and 5 have been coloured in to show these two types have been sold. Yes, these dice are very small, but if you cannot see the pips you can count their positions, or compare the colours.
When bonus tiles for fully completed hex types have been gained these will be shown as points gained / bonus tiles gained. The points gained will be included in the VP total shown.
The default setting is for all end-game bonuses to be included in the VP total shown, but if you want to, you can request a game where only the in-game score is shown until the end of the game.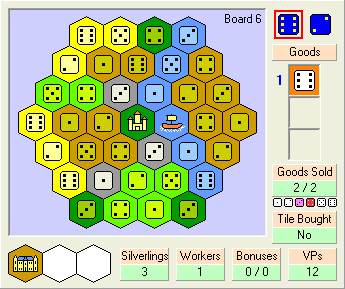 Need a little more detail? Click on a game board to view it double-size in a new page, then click the Continue button or the enlarged game board to return to the game.